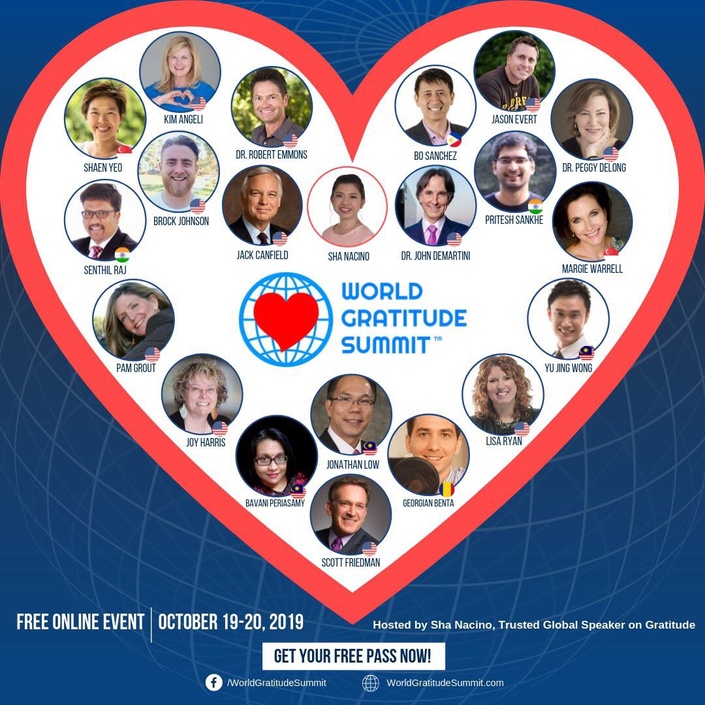 World Gratitude Summit™ (VIP)
The "SECRET" to Increasing Love, Happiness, Good Health, Wealth & Success into Your Life...REVEALED!
Learn how powerful speakers like Jack Canfield & Dr. John Demartini, two teachers who appeared in the hit movie The Secret; gratitude psychologist Dr. Peggy Delong; bestselling author Bo Sanchez; and many more turned their life around through the Power of Gratitude…and how you can too!
WARNING: This powerful SUMMIT will enable you to look at the world in a completely different way.
Do you sometimes have difficult and uncomfortable emotions that are hard to manage?

Do you sometimes go into a cycle of negative thoughts that sabotage your success and happiness?
Do you or someone you know of deal with mental health issues?
Did you ever experience how failure knocked you down into a mode which was self destructive? And you start asking yourself, " how do I lift myself out of this mess?"

Did you ever wish your career has gotten better every single year?

Do you have goals you want to achieve but challenges in life make you throw in the towel?

Do you want to stay healthier and happier?

Do you want to increase love in your heart?
Do you want to stay inspired?
If you answered YES to any or all of the questions above, you've come to the right place.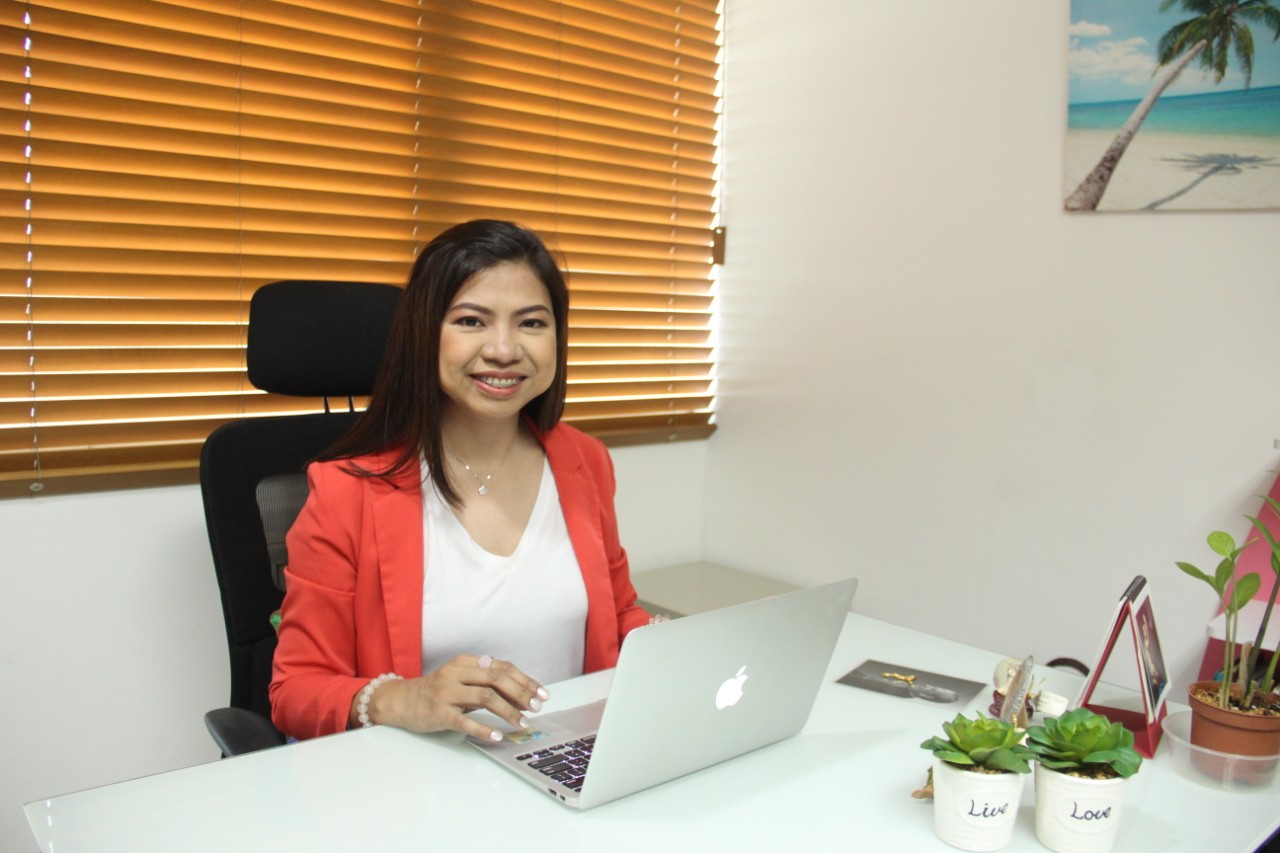 Hi, I'm Sha Nacino, keynote speaker on Gratitude and founder of the World Gratitude Summit™.
Here's how I can help you.
I used to overthink and over analyze things. For many years, I was a worrier.


In 2011, I met someone who changed my life. Her name is Nina. She was a very successful and happy person. One night, she treated me to dinner. So I took that opportunity to learn from her.

"What is the secret to your happiness and success?" I asked.

She smiled and said, "Oh, I have this simple notebook which I call my Gratitude Journal. Every morning when I wake up and at night before I sleep, I write down the things I am grateful for."
That conversation changed my life.
The next day, I bought a notebook and I began journaling what I was grateful for. I started my Gratitude Journal in 2011 and since then, I've been journaling every single day. Through the years, I've developed my own gratitude journal called the Mission Happiness Journal. I've also added other daily Gratitude Practices like Gratitude Walks, etc.


And a lot of things changed!
Gratitude helped me become a happier and more positive person. It helped me see problems as blessings. Through the power of gratitude, I can say that I now enjoy life more. Gratitude makes me enjoy little things. A flower makes me happy. The sun makes me happy. Water makes me happy. Watching children play makes me happy. Being at home with my family makes me happy. Sleeping makes me happy. Little things do make me happy.
I am so grateful for that ONE CONVERSATION that changed my life.
This is one of the reasons why I had conversations with some of the world's experts when it comes to gratitude. They are happiness scientists, psychologists, bestselling authors, human behavior experts, and so on.
And the best part? I am soooooooo happy to share these conversations with you!!!
Here's the profile of some of our speakers:
1. Dr. Robert Emmons - he is the world's leading scientific expert on Gratitude
2. Scott Friedman - founder of the Global Speakers Summit, one of only 33 Global Speaking Fellows in the world
3. Bo Sanchez - bestselling author of over 50 books
4. Jack Canfield - bestselling author of the book series Chicken Soup for the Soul
5. Shaen Yeo - a happiness scientist
6. Dr. Peggy DeLong - the Gratitude Psychologist
and many more!
Here's the complete line up of our speakers: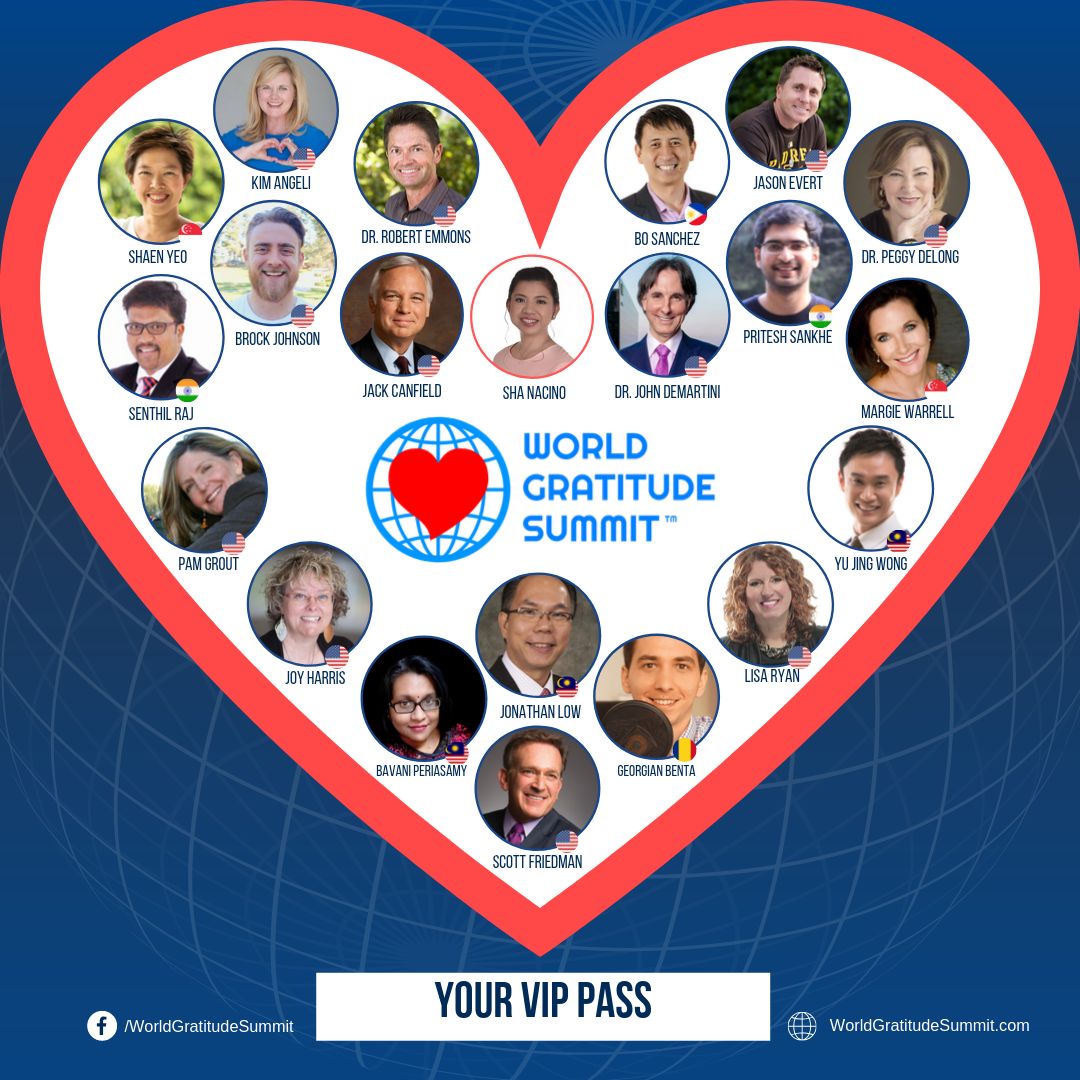 You'll enjoy not just one, but 20 meaningful conversations on gratitude.
You'd be amazed at how this simple tool called GRATITUDE can increase LOVE, HAPPINESS, GOOD HEALTH, WEALTH, and PRODUCTIVITY into your life.
Plus, you will get LIFETIME ACCESS to my conversations with them.
Now you're probably thinking, "how much would it cost me to get this experience for a lifetime?"
I hear you. I attended a seminar that cost me $10,000.
Nope. It's not going cost you $10,000.
Not even $5000.
Not $2000?
$1000? Not in the least bit!
No, not even $500.
The VIP Access for the World Gratitude Summit™ is $197 only!
Here's the thing…
If you join NOW, you'll get it for $67 only!
WHAT YOU'LL LEARN & DISCOVER
Day 1










Day 2










Your VIP Pass gives you LIFETIME ACCESS plus you'll get these amazing BONUSES!













Frequently Asked Questions
When does my VIP access for the World Gratitude Summit start and finish?
You will get your access on October 19, 2019 and your access never ends! It is a completely self-paced online summit - you decide when you start and when you finish.
How long do I have access to the course?
Great question. Your VIP pass gives you LIFETIME ACCESS. You have unlimited access to this online summit for as long as you like - across any and all devices you own.
What if I am unhappy with the online summit?
We would never want you to be unhappy! If you are unsatisfied with your purchase, contact us in the first 7 days and we will give you a full refund.
Meet Sha Nacino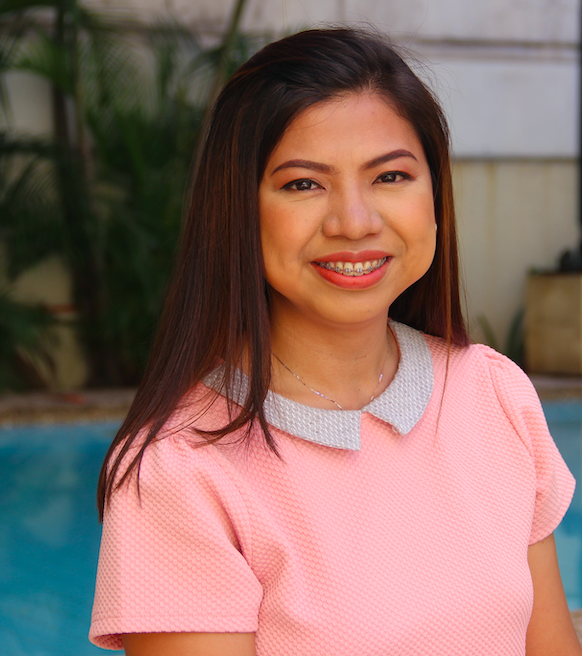 Sha Nacino is a trusted global speaker on gratitude and creativity. She has spoken to thousands of audiences from more than 26 countries globally. Sha is a prolific author who has written and published 12 books so far. She is the founder The 90-Day Book Writing Challenge™ ONLINE COURSE (shanacino.com/write), HR Summit Global™, Global Authors Summit™ and Write University™. Sha is recognized as a Distinguished Toastmaster (DTM), the highest award given by Toastmasters International to its members worldwide. Sha is also a Jack Canfield Certified Trainer on Success Principles.


On a lighter note, Sha loves to travel and have fun! She enjoys painting, dancing, and singing (although she has yet to learn how to carry a tune). She also likes playing with kids and bonding with her family and friends. She's currently happily single who dreams of meeting her future husband soon!

If you wish to invite Sha to speak in your company, event, or global conference, or if you simply want to connect with her, email her at [email protected]
The VIP Access for the World Gratitude Summit™ is $197 only!
Here's the thing…
If you join NOW, you'll get it for $67 only!
Testimonials