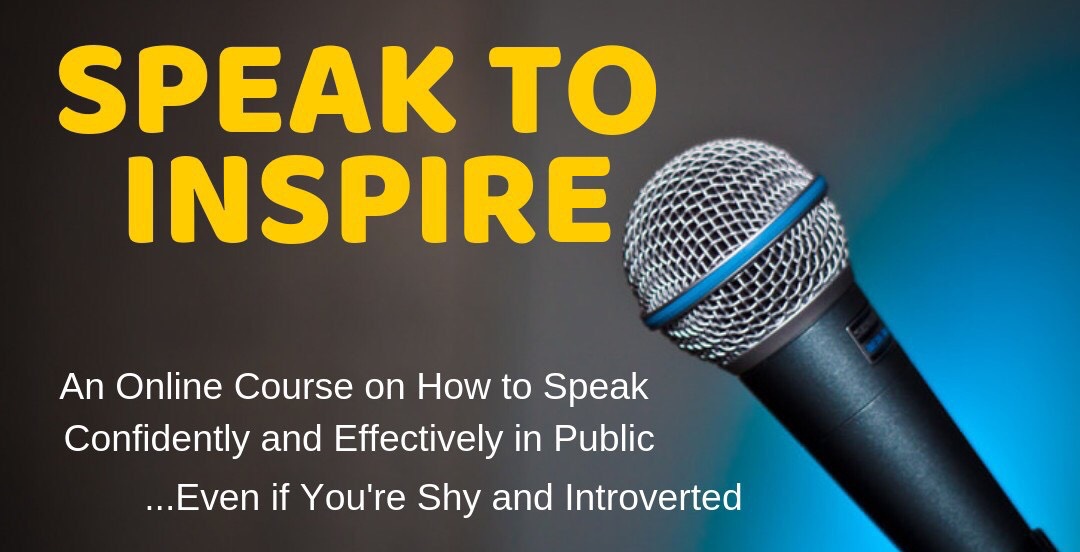 Are you afraid to speak in front of a group of people?
Do you want to gain more confidence the next time you are asked to speak before an audience?
Do you want to learn public speaking strategies that will allow you to captivate the attention of your audience and keep them engaged all throughout your talk?
Do you want to become an engaging speaker and inspire your audience even if you are shy and introverted?
You've come to the right place.
Hi, I'm Sha Nacino. I'm here to help you.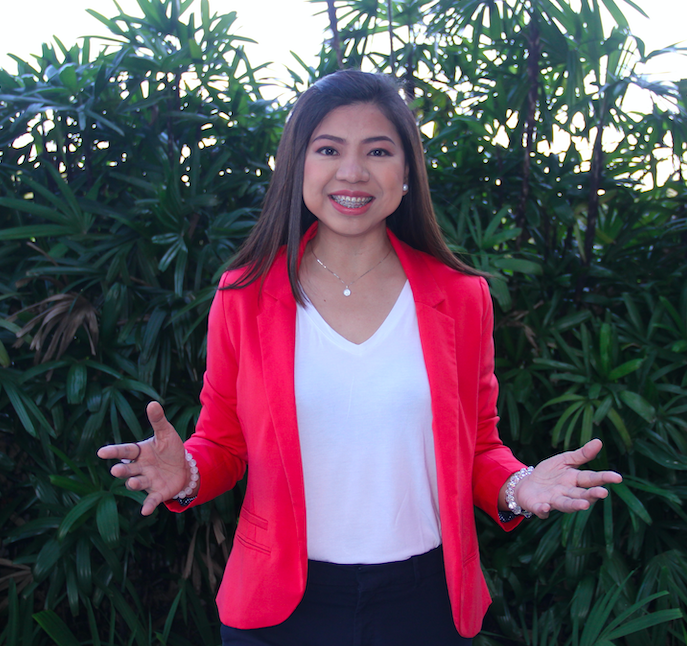 Since 2011, I've spoken to thousands of people all over the Philippines and some parts of Hong Kong, Singapore, Malaysia, UAE, India, and Spain.
I am also a Jack Canfield Certified Trainer on Success Principles.
Recently, I was also awarded as a Distinguished Toastmaster (DTM), the highest award given by Toastmasters International to its members worldwide.
I was Shy and Introverted
I wasn't always good in public speaking. Prior to becoming a professional speaker, I was painfully shy. Plus, I'm an introvert.
I cried in my first speech!
I could still remember my first speech in a Toastmasters group. There were about 20 people. I stood in front of them and I was so nervous, my knees were literally shaking.
My mind went blank and I couldn't think of anything to say. Out of nervousness, I cried. And that was my first ever speech in that community.
I didn't give up!
I persevered. I kept studying how great speeches and talks were delivered.
I attended seminars.
I delivered speeches at least twice a month.
I watched TED talks. I watched public speaking championships.
I practiced and learned and practiced and learned.
The Journey
Years later, I wrote my first book and I got invited to speak in Learning Curve's Money Summit 2011 in front of 400 people.
From a paying attendee, I became a resource speaker. I shared the stage with the CEOs and VPs of big companies in the Philippines. The organisers asked me to speak just because I wrote a book related to the theme of their event.
After that, I got invited to speak in several big events like Bo Sanchez's Wealth Summit and HR Conferences. I also got invited to speak in top companies in the Philippines like HSBC Philippines, Philam, Sunlife, Bayantel. I even got invited to speak at the Office of the President of the Philippines in Malacanan.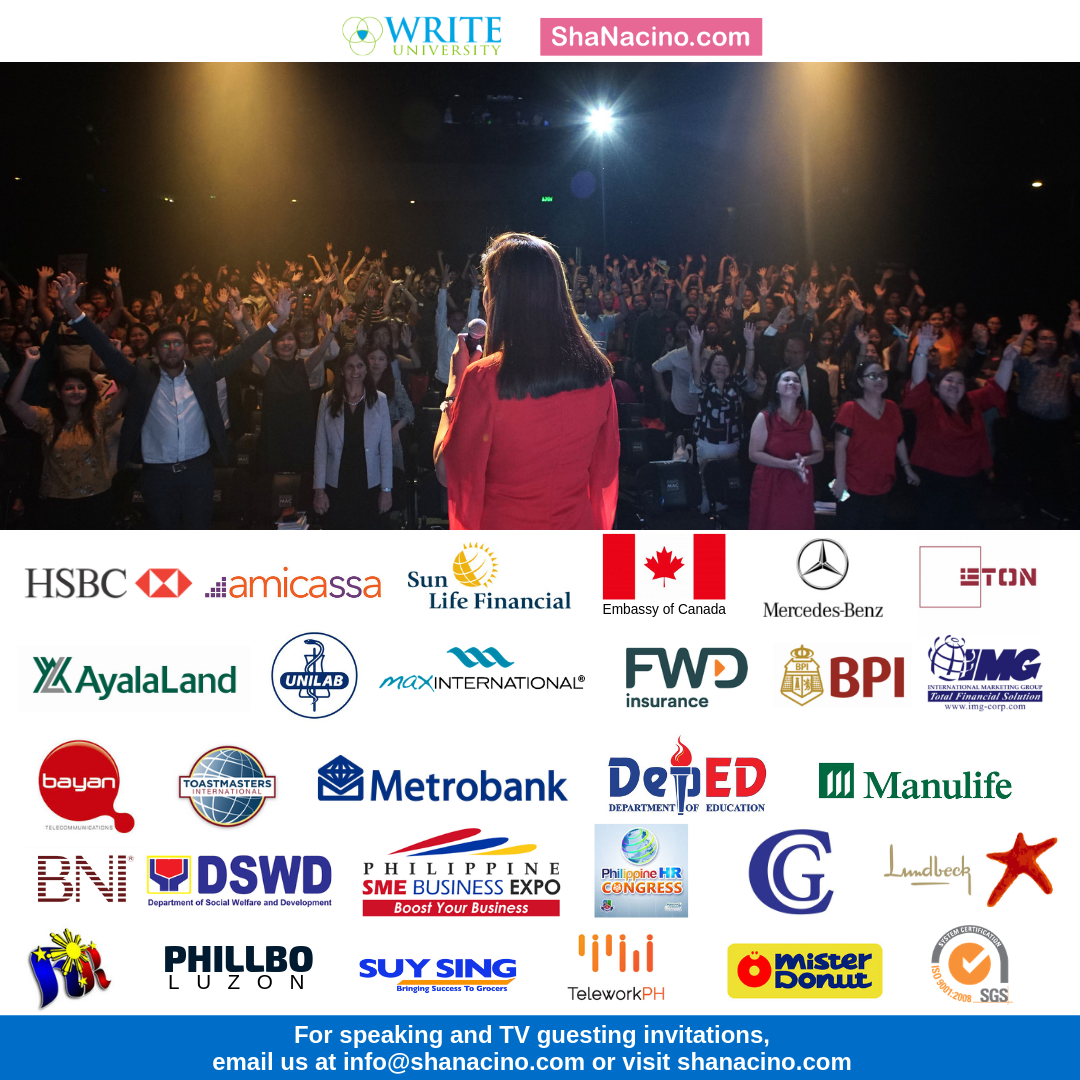 In January 2019, I flew to Chennai, India to speak at the first ever Professional Speakers Summit. There were 150 professional speakers from 9 countries and I was the only representative from the Philippines. In that event, I gave a masterclass on Book Writing.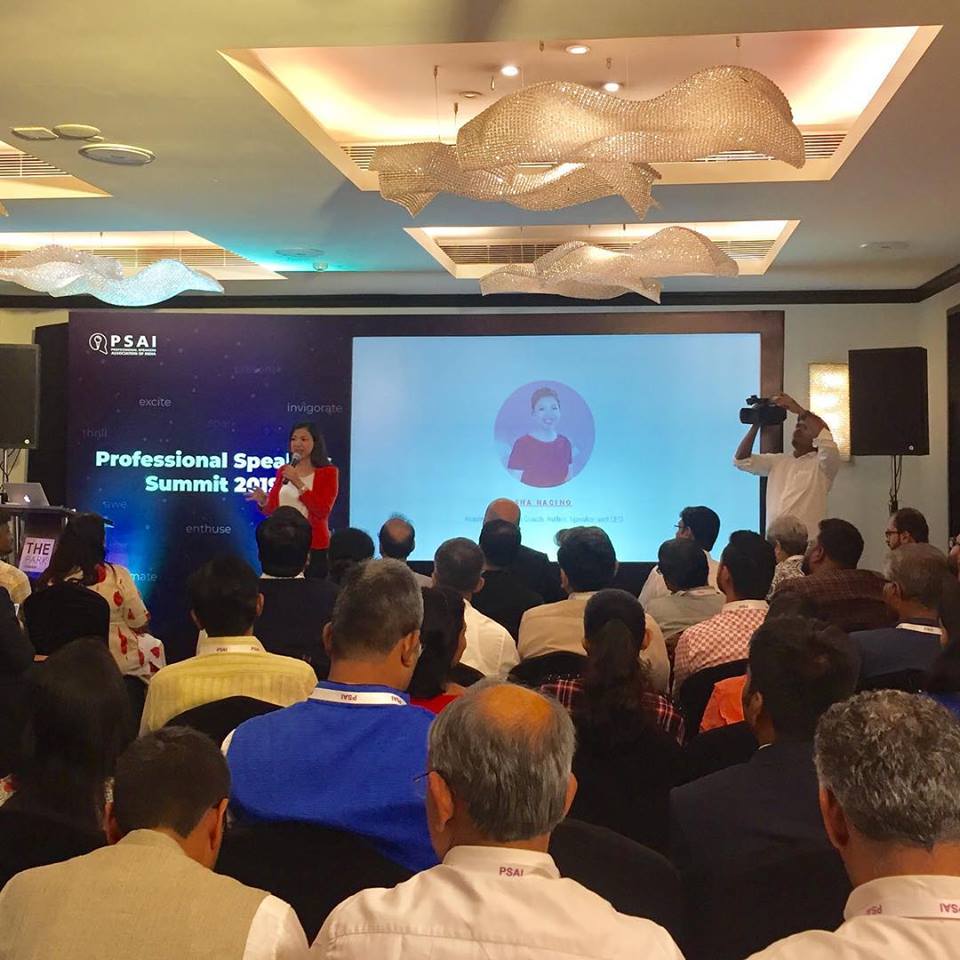 There are Strategies to Engage the Audience and Inspire them

Through the years, I've learned and continually improved my craft as a speaker. In fact, one of our practices in Toastmasters is to evaluate speakers.
As an Evaluator, your task is to evaluate what's good about the speech and suggest what can be improved.
I joined the Speech to Evaluate Contest and I was the champion in the club level, area level, and division level. I competed in the National Level held in Dumaguete in 2005 and I won 1st runner up.
I can teach you how to speak confidently in public even if you are shy and introverted and how you can inspire the audience.
This is the reason why I am presenting this unique online course on Public Speaking called SPEAK TO INSPIRE.
In my 11 years of experience as a public speaker and a paid professional speaker, I realised that there is a FORMULA to becoming an effective, engaging, and inspiring speaker.
I remember when I gave a talk at Batangas State University.
There were 1,800 students. Temperature was a bit hot, students were fanning themselves. Plus, the lights were switched off except for the spotlight that was directed on the stage. Perfect scenario to sleep or talk with your seatmates.
My prayer was, "Lord, I want to reach out to each and every student -- including the students seated at the farthest part of the gym. I don't want anyone to be left out, not even one."
When my name was called, I scanned the audience and I started speaking.
During my one-hour talk, I felt the audience and I felt they were so engaged and enthusiastic. We connected. They laughed. They took down notes. They listened. They asked questions during the Open Forum.
A week later, I received this email from one of the students.
Here's the English translation of the highlighted text:
"Even if we were seated at the farthest part of the gym, we managed to listen to every word you shared and imparted with us."
Her email validated my prayer -- I was able to reach even those who were seated at the farthest part of the gym.
Why is it important to improve our communication skills?
Let me share with you three stories:

Story #1: The boring speaker
A few years ago, I was in a university outside Manila. I just gave a talk and I was now seated with the audience.
The next speaker was on stage.
At first, the students were engaged, maybe for about 2 minutes. And then I heard the chatters and the speaker continued to speak.
The speaker then faced the screen where his powerpoint was projected and he was so engaged in discussing his topic…but the audience was disengaged.

That's when I realised how challenging it is to sit in a talk and listen to someone who is… uhmmm….boring.
Story #2: The highly successful entrepreneur who was reluctant to speak
On another occasion, I attended a 3-day entrepreneurs summit. On Day 3, a highly successful entrepreneur was speaking in front. She was an MBA holder from one of the most prestigious universities in the U.S.
I tried so hard to concentrate and listen to her but I just couldn't. Why? Because her ideas were not organised.

To make matters worse, she didn't show any enthusiasm. There was no passion at all. It's almost as if she was just forced to speak.
Too bad, because the attendees paid for the summit. I paid for the summit. And the speaker had all the chance to inspire, instruct, and influence. She had the air time. She had our attention, at least in the beginning.
Story #3: The CEO who read his 3-minute speech
On another occasion, I attended a big event wherein the keynote speaker was a very popular and well loved speaker in the Philippines. Right before his talk, the CEO of the company that organized the event gave his Opening Remarks.
He held the mic and he began reading his speech. I was waiting for him to glance at the audience and connect with the audience but he didn't. He just kept on reading his speech. I timed his speech and it was 3 minutes.
I'm sure he prepared for the speech as evidenced by the fact that he had time to write it. But the speech was 3 minutes only. He could have memorized it from the heart and spoke from the heart.
I have so much respect for the three people I mentioned. I knew they did their best. They mustered enough courage to speak in front. They must have spent so much time preparing for their respective talks. They didn't mean to bore the audience. But perhaps because of lack of training in public speaking, and lack of honest and constructive evaluation for their speeches, they were not able to deliver their respective speeches/talks effectively.
My heart goes out to them because like what I shared earlier, I was also like them when I started. Maybe worst because I cried in my first speech. There's one more blooper of mine I'd like to share with you.
When I was still an employee in a bank, I applied for an internal vacancy within our company. I really liked the job. I liked the boss as well.
The day of the interview came. When the interviewer started asking me questions, I was dumbfounded. I was so nervous, I stuttered. I couldn't organize my thoughts. After the interview, I felt so bad about myself, I wanted to vanish. As you know, I didn't get the job.
I thank God I experienced those because they really pushed me to train in speaking. After 11 years of training, a lot of things have changed.

Today, I LOVE speaking in public. Modesty aside, I can tell that the audience love listening to my talks, too, as evidenced by how engaged they were during the talk. I'd also usually get tons of emails from happy participants. And right after my talk, I love accommodating the participants when they ask for selfies because I get to talk to them up close. The bonus part? Companies pay me handsomely to inspire their employees through my talks.

There's this one company that hired me to speak at their 3rd annual summit. During their first two summits, they had Francis Kong and Anthony Pangilinan, respectively, as their speakers. On their 3rd annual summit, they hired me. They were so generous, they paid me a 6-figure amount for a 2-3 hours talk.
My friend, communication skill is so crucial because we communicate all the time -- with our families, friends, boss, colleagues, clients, students, teachers, the person behind the counter, and so on.

If you are an employee, your communication skills will help you get promoted.
If you are a manager, or a department head, or a CEO, it's important to learn how to communicate your message with your team. Poor communication skill can result to confusion. Worse, if you are a boss and you are not good in speaking, your subordinates may perceive you as incompetent.
If you are an entrepreneur, you need to communicate well with your employees, suppliers, clients, and partners.
Whatever profession you are in, communications skills are vital to your success and happiness.
Is Public Speaking Scary?

"Public Speaking is scary." That is how it is perceived and that's how many people feel about public speaking.
In reality, Public Speaking is simple.

I can teach you how you can effectively engage and inspire your audience -- whether you are speaking to a group of 20 or 200 or 2,000.
In my 11 years as a Toastmaster and 7 years as a professional speaker, I discovered the 5 Cs necessary for a highly effective speech.
When you have the 5 Cs in place, you'd be able to deliver a speech that would captivate your audience from beginning to end. Your speech will be authentic with a clear message and it will have a powerful impact on your audience.
I will reveal these in this online course Speak to Inspire.
After you go through this online training, you will discover the secrets on:
✓ How to be an authentic speaker.
✓ How to clarify your message so your audience can easily follow what you want to say.
✓ How to uncover and write your unique story
✓ How to share your story that will draw people to you
✓How to organize your speech, create a powerful opening, and a strong closing
✓ How to connect well with your audience and how to capture their attention from beginnig to end
✓ How to have the right mindset so you will gain the confidence to speak before an audience
✓ The relaxation techniques you can do to keep yourself calm and collected
✓ How to deliver a really, really, good speech!
And many more!

Here's a sneak peak of what you will learn inside the Speak to Inspire ONLINE COURSE.
Enjoy! :)
Week 1
Available in days
days after you enroll
Week 2
Available in days
days after you enroll
Week 3
Available in days
days after you enroll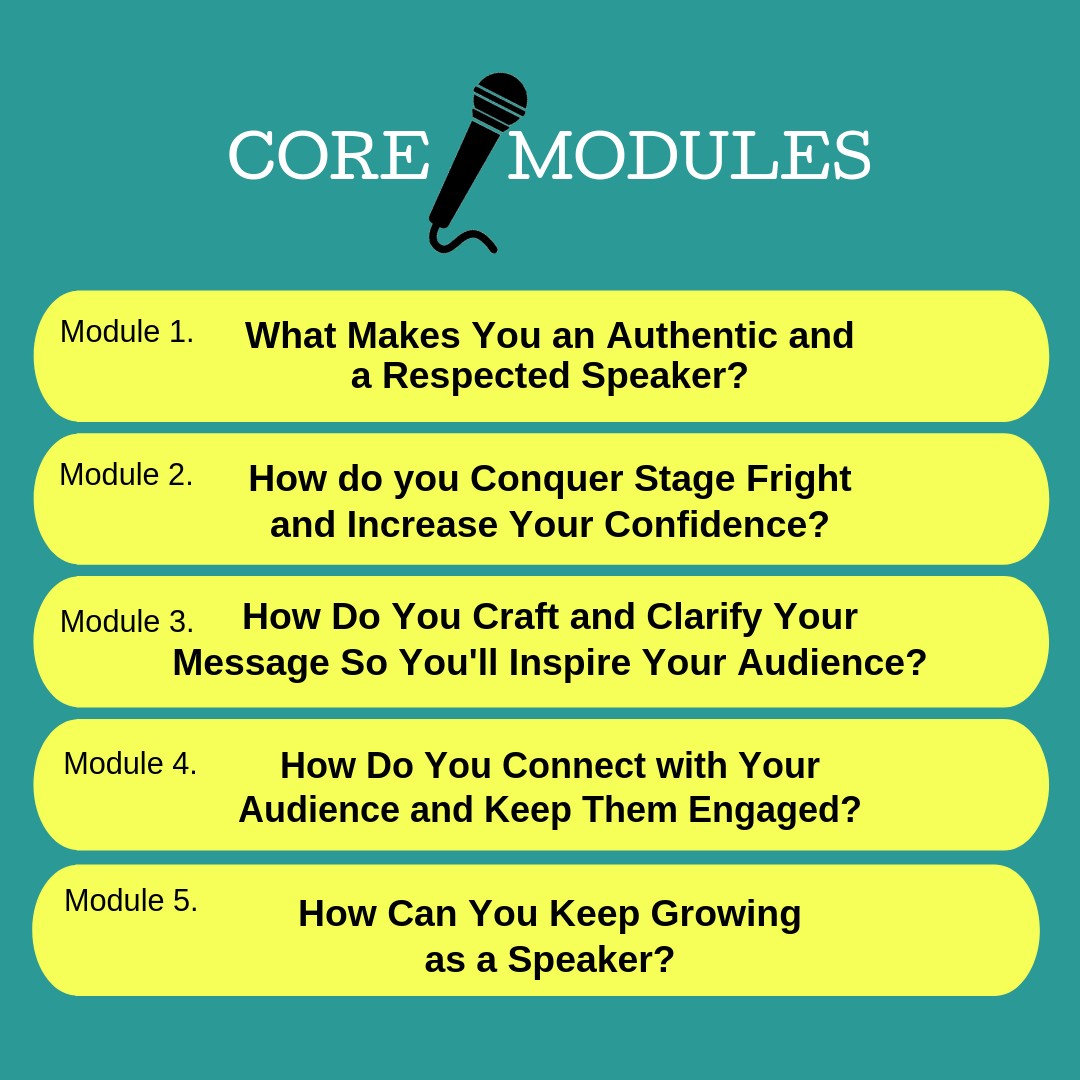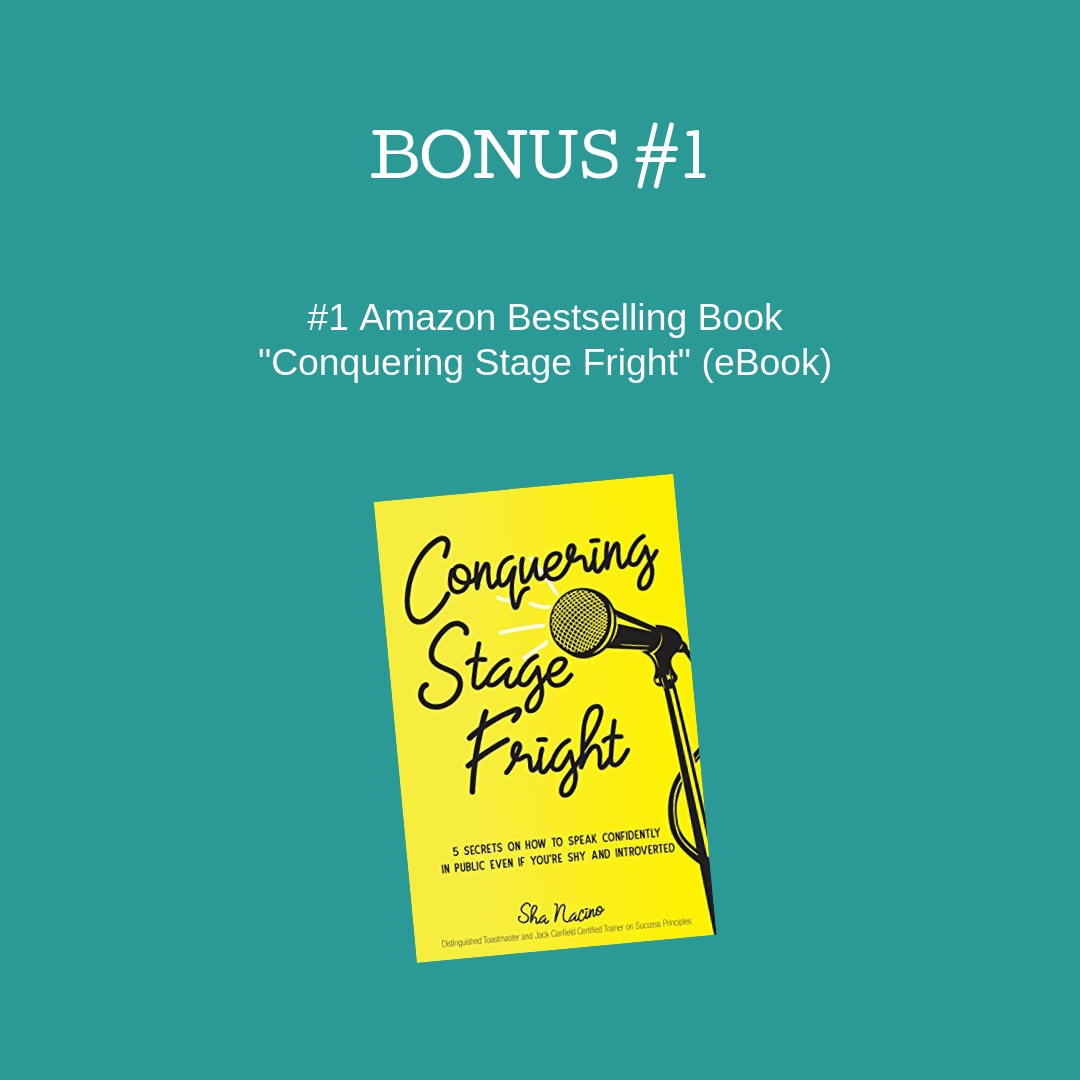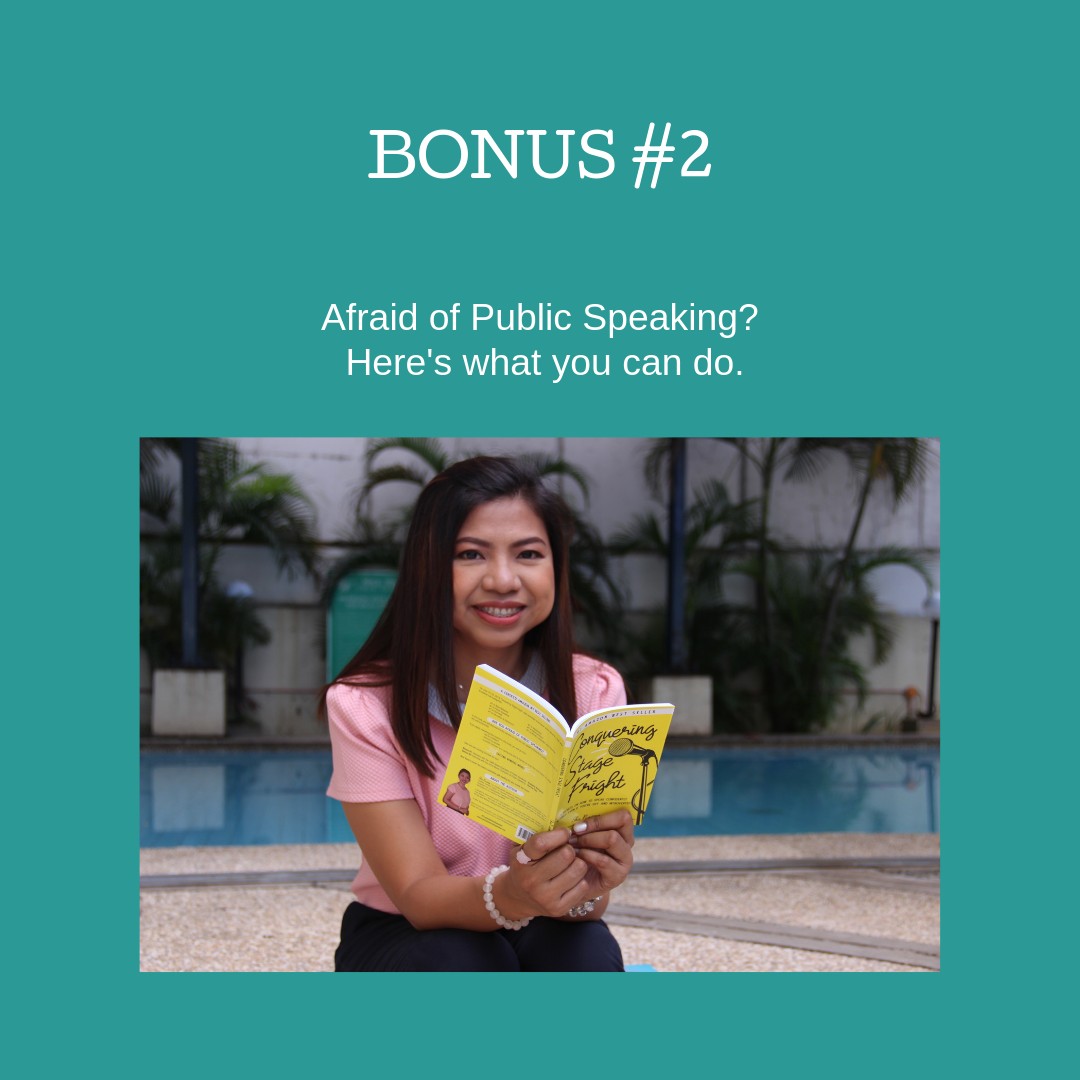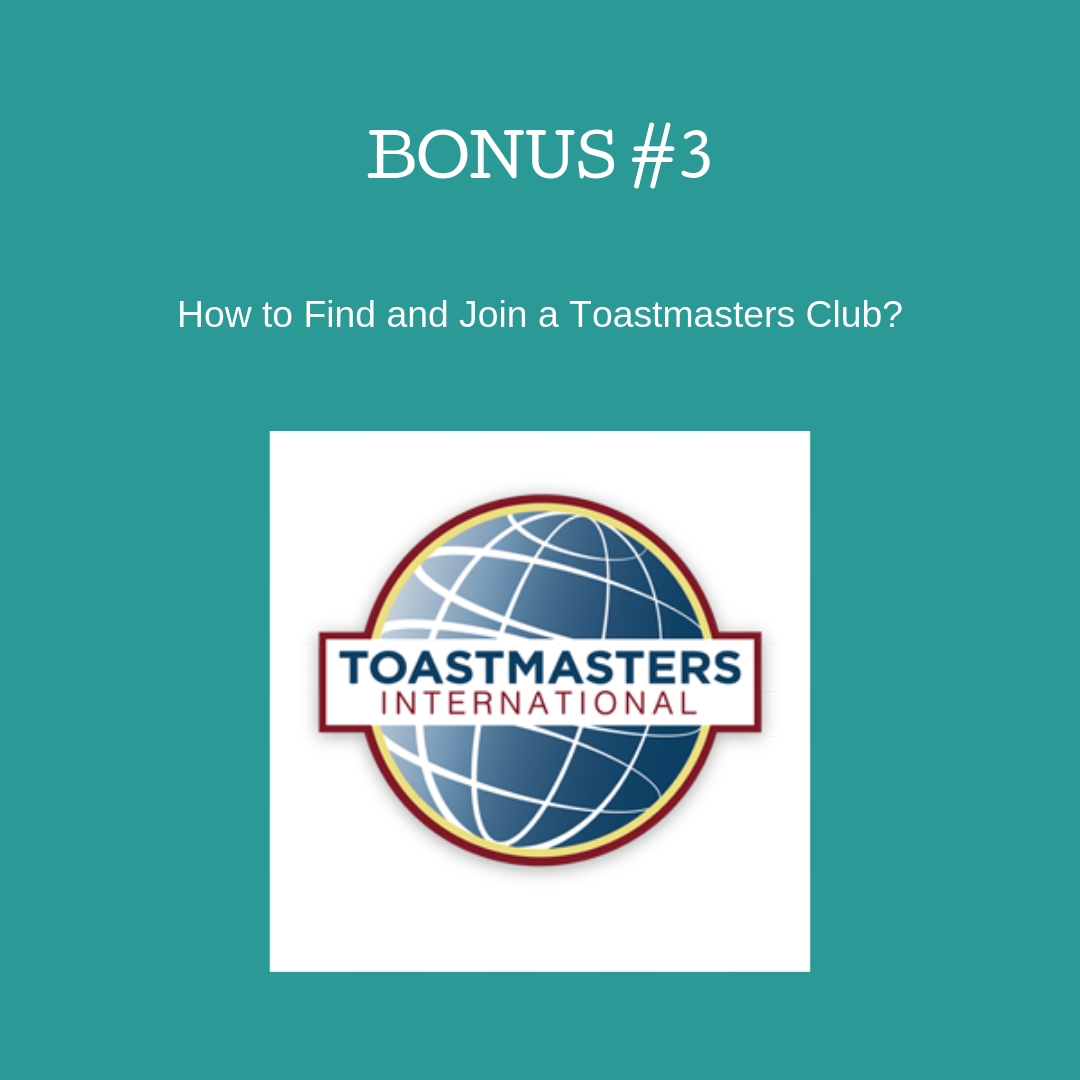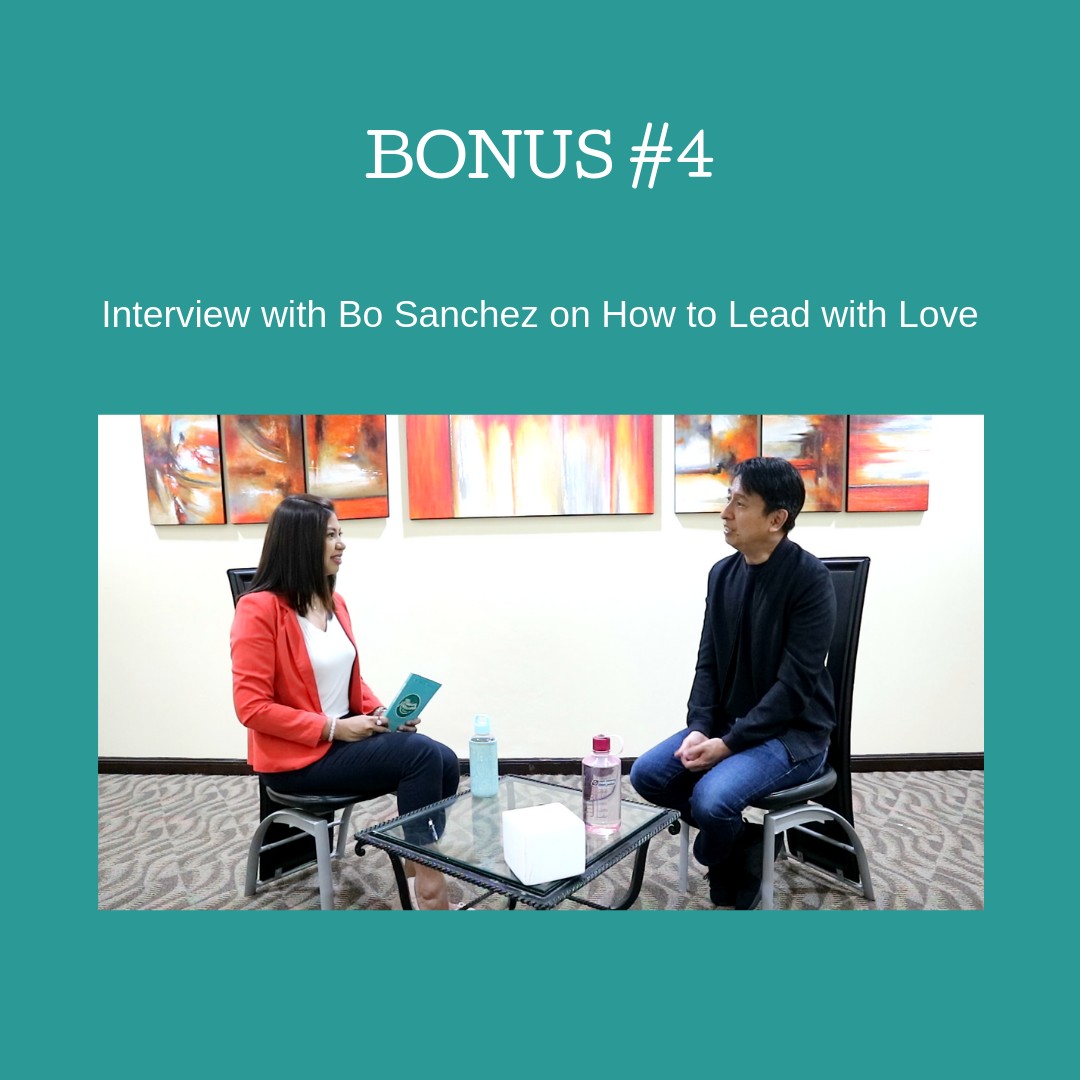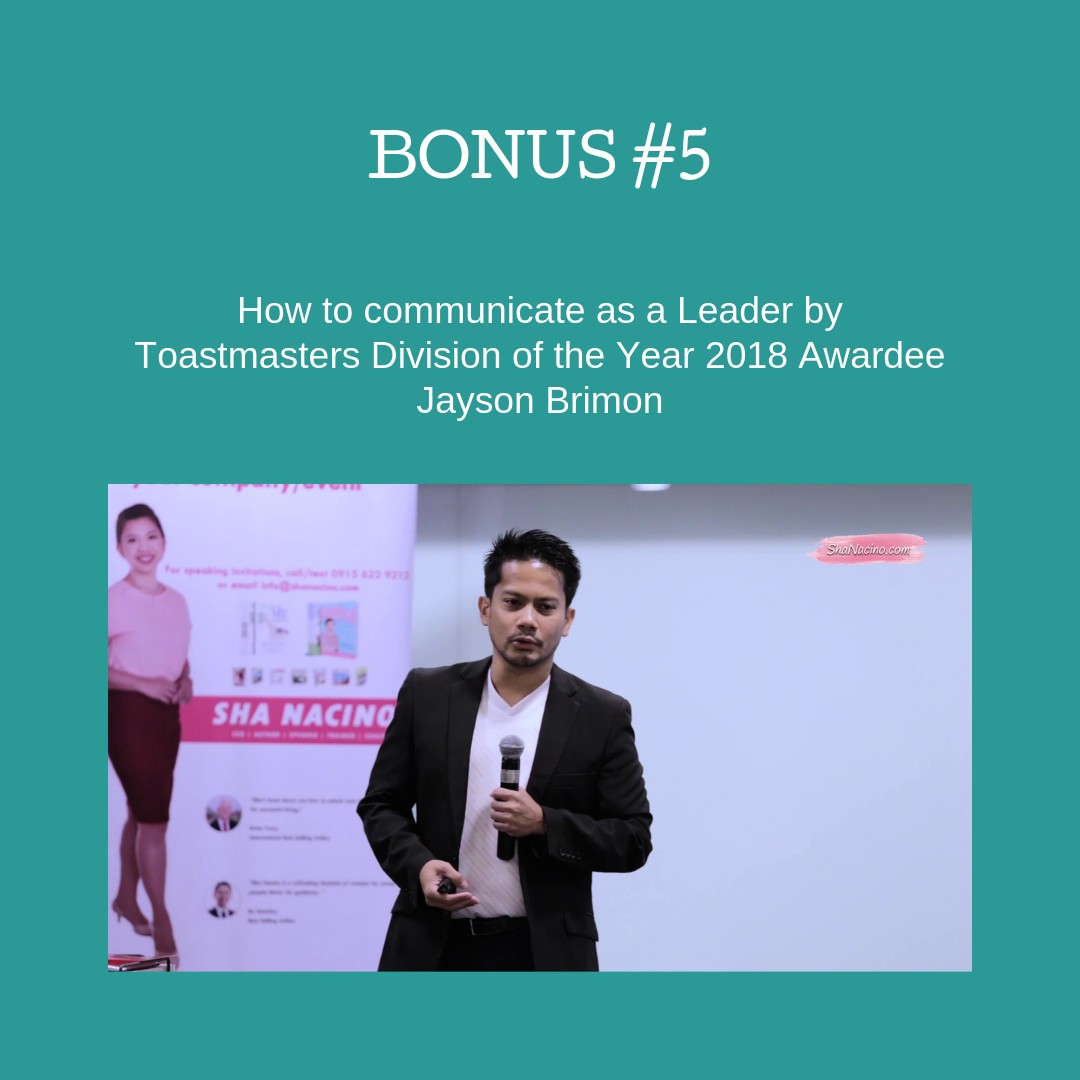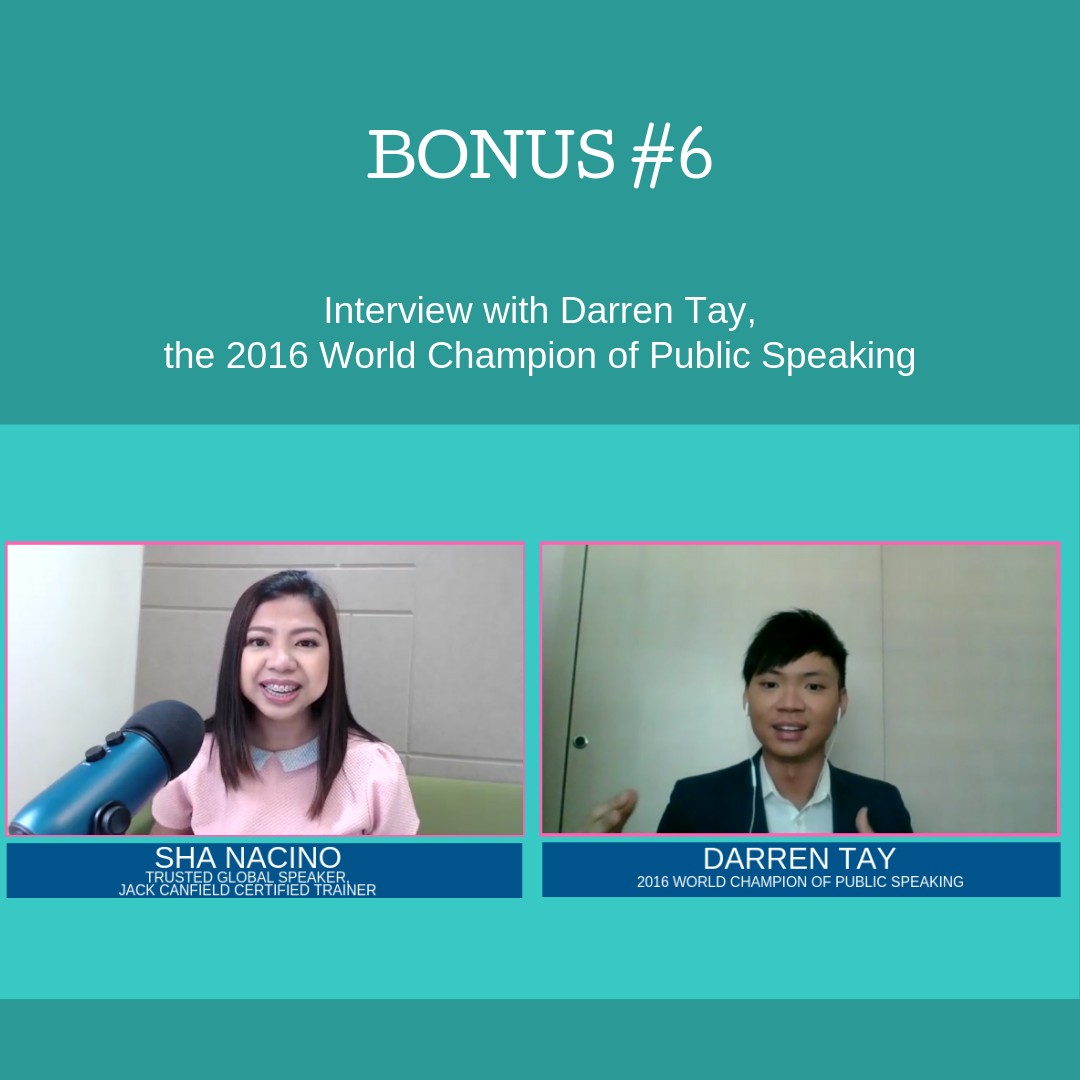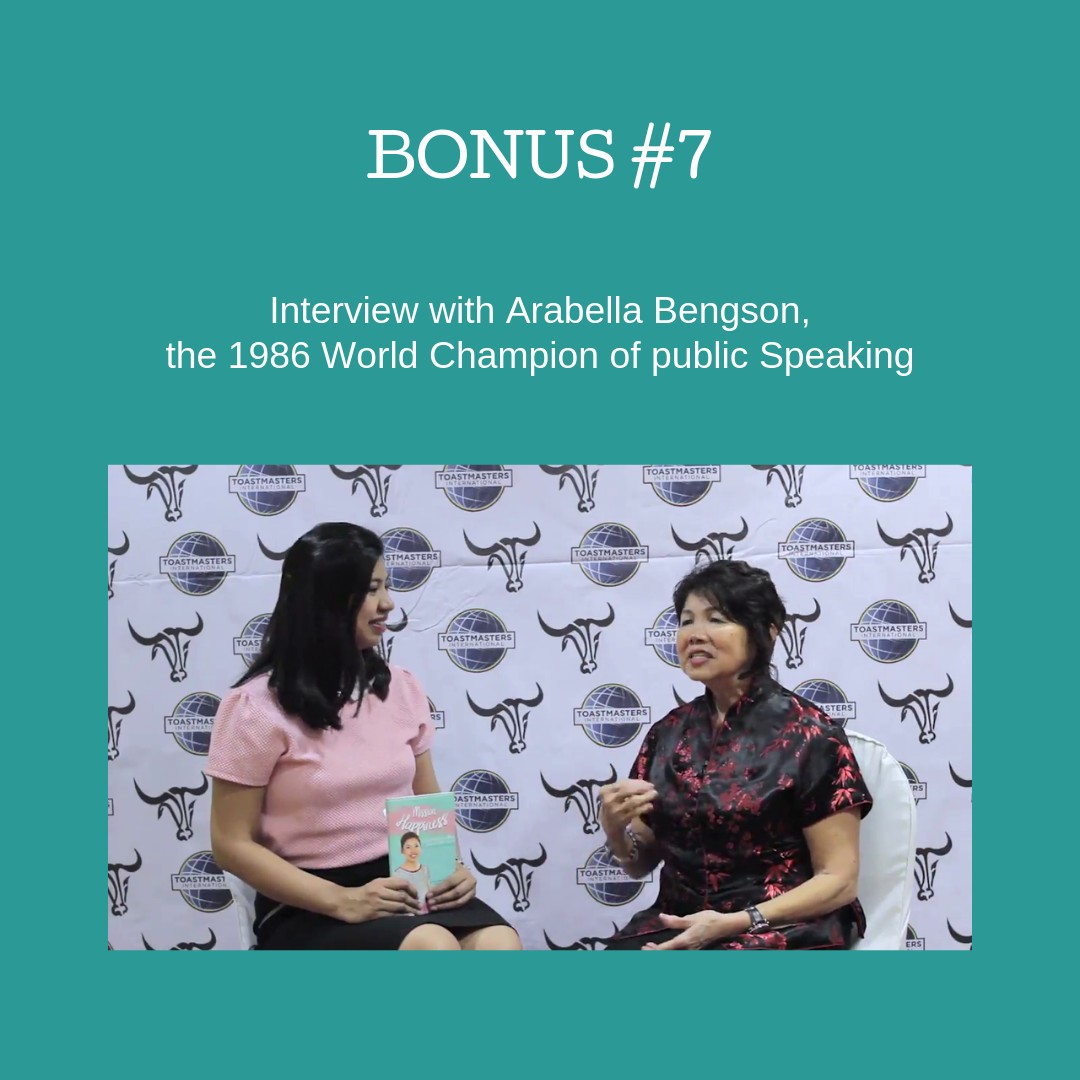 How Much is Your Investment
Just to give you perspective. Everything I'll share with you at SPEAK TO INSPIRE is the result of my 11 years of training in public speaking and 5 years of experience as a highly paid professional speaker.
In 2014, I attended a speaking convention in Kuala Lumpur, Malaysia, and the amount I spent for the convention, air fare, and accommodation was over P50,000.

In 2018, I traveled to Singapore twice to attend speaking events. The amount I spent for the event fee, travel, and accommodation was close to P80,000.
In between, I've invested in so many online courses, seminars, and events to hone my speaking skills. If I were to compute everything I've spent on these online courses and seminars on speaking, that would amount to more than P500,000! That's just in terms of money. We haven't factored the amount of time yet.
Plus, I'm spending P60k a year to maintain the online platform we are using for SPEAK TO INSPIRE.

But I won't charge you that much! In fact, your investment is just a very, very tiny fraction of that amount.
This complete online course with all the bonuses are designed to help you gain confidence and competence in speaking.
The total value of the online course is more than P100k.
But I won't charge you that much.
Not even P50,000.
Not even P25,000.
Not even P15,000.
LIMITED OFFER!!!
For a VERY LIMITED TIME, we are offering this course at a Discounted price of USD197 only or P9,997 only via bank deposit! Yes! You read that right!
Who is this ONLINE COURSE for
- Aspiring Speakers
- CEOs
- Managers or Business Executives
- Leaders of organizations
- Employees who want to get promoted
- Entrepreneurs
Frequently Asked Questions
When does the course start and finish?
You'll get instant access to Week 1 of the 7-Week online course as soon as you enrol. It is a completely self-paced online course. The modules/bonuses are released every week. Once the modules/bonuses are released, you decide when you start and when you finish.
How long do I have access to the course?
You have LIFETIME ACCESS to all the modules and bonuses. :) After enrolling, you have unlimited access to this course for as long as you like - across any and all devices you own.
What if I am unhappy with the course?
We would never want you to be unhappy! If you are unsatisfied with your purchase, contact us in the first 15 days and we will give you a full refund.
If you wish to pay via bank deposit, simply deposit P7,500 to any of the bank details below. Bank deposit is applicable to one-time payment only. Then kindly email the following to [email protected]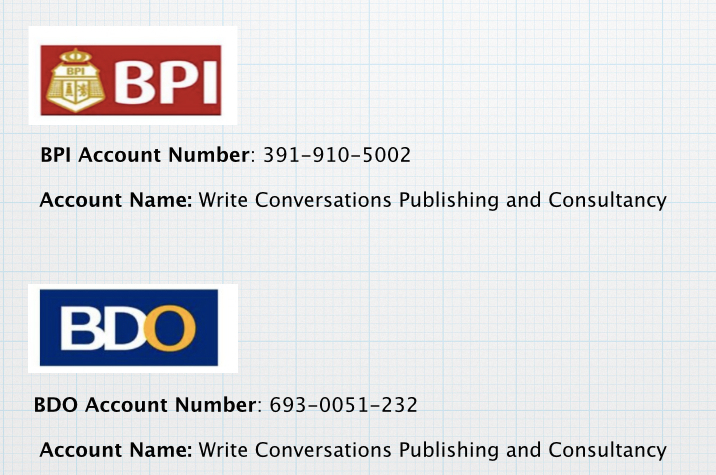 Name:
Email Address:
Mobile Number:
Country where you are based:
You will receive an email confirmation within 24-48 hours.
Meet Sha Nacino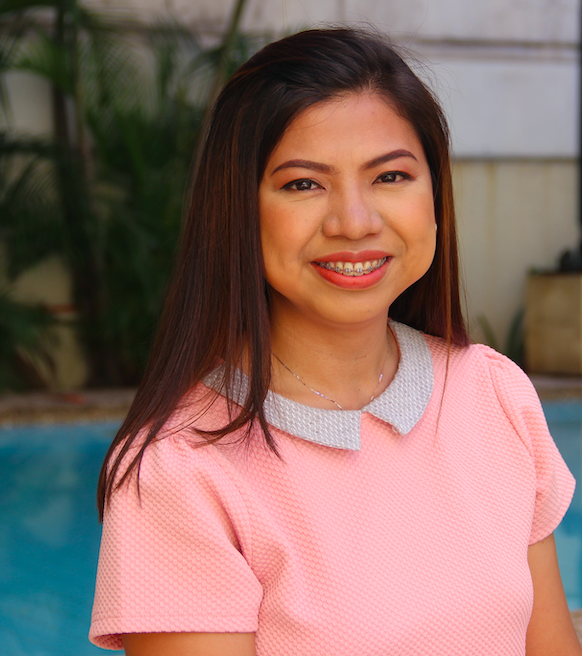 Sha Nacino is a trusted global speaker on gratitude and creativity. She has spoken to thousands of audiences from more than 26 countries globally. Sha is a prolific author who has written and published 12 books so far. She is the founder The 90-Day Book Writing Challenge™ ONLINE COURSE (shanacino.com/write), HR Summit Global™, Global Authors Summit™ and Write University™. Sha is recognized as a Distinguished Toastmaster (DTM), the highest award given by Toastmasters International to its members worldwide. Sha is also a Jack Canfield Certified Trainer on Success Principles.


On a lighter note, Sha loves to travel and have fun! She enjoys painting, dancing, and singing (although she has yet to learn how to carry a tune). She also likes playing with kids and bonding with her family and friends. She's currently happily single who dreams of meeting her future husband soon!

If you wish to invite Sha to speak in your company, event, or global conference, or if you simply want to connect with her, email her at [email protected]