Dear Hardworking OFW,

Are you tired of being homesick? Yung gustong gusto mo nang umuwi for good, pero di mo magawa kasi lubog ka pa sa utang at wala ka pa ding ipon?
Have you ever wondered how some OFWs manage to become truly happy?
Have you ever dreamed of being financially stable AND happy, kahit gaano kahirap yung sitwasyon mo?
Yes? Then keep reading because this is for you!
Mahirap maging OFW. People think it's easy because of the money, but it's not.
It takes a lot of sacrifice. Sleepless nights. Bucket of tears.
Yung malayo ka sa pamilya mo tapos di mo alam kung kailan mo ulit sila makakasama.
You Have No Choice But to Leave Your Family and Work Abroad Just to Provide
Everything suddenly changes. You wake up missing them, gusto mo silang mayakap at makamusta pero di mo magawa.
You have to wait for them to go online. After that, you work hard all day even if you get treated unfairly by your employer.
Tapos dika pa sure kung secured ka sa trabaho mo.
And sometimes you tell yourself that it's okay...
Kasi para naman 'to sa kanila, diba?
Matatapos working hours mo, but at the end of the day...
You're still far from home.Being tired and homesick is not an option, because your family needs you.
You have to go through every STRUGGLE.
And even SACRIFICE YOUR HAPPINESS to provide for your loved ones.
Minsan feel mo wala ka nang choice, and it's emotionally draining.
But here's the truth:
Simply Waiting for the Situation to Change Is Only Going to Make You Feel Hopeless
It feels impossible to become positive when you're stuck in a situation.
But sadly, you're losing time.
It's being spent on days of frustration and homesickness.
Imagine if everything falls apart.
Your children are emotionally distant, kasi dumaan nalang mga important events sa buhay nila tapos wala ka.
Your marriage is filled with conflict. Di mo na alam pano aayusin.
You struggle in saving money. Gusto mo pa sana magpadala kaso kulang. Gusto mo na sana umuwi kaso hindi pa kaya.
You go through stress every single day. Palagi kang nabuburnout.
And you feel hopeless, unhappy, and stuck.
You feel like there's nothing you could do but see these things happen in your life.
Nakakawalang gana, diba?
So paano na?
Is this really the life for you as an OFW?

Well, what if I told you that you can still be truly HAPPY and even RICH..
Even as an OFW?
You don't have to live in fear...
You don't have to feel hopeless...
Because happiness starts with YOU.
Yes, hindi imposible!
All it takes is faith, action, and a whole lot of inspiration.
But how?
Saan ako magsisimula?
Introducing...
The Overseas Filipinos Summit

™

Get a FREE pass on this 5-day Online Seminar where you can get inspired— right at the comfort of your own home!


Ready to learn how to become GENUINELY HAPPY and RICH?
FREE 5-Day Online Seminar for OFWs!
December 16-20, 2019
How to Be a Financially Stable and Happy OFW by Learning From Bro. Bo Sanchez and Over 40+ Filipino Experts in This Life-Changing Online Seminar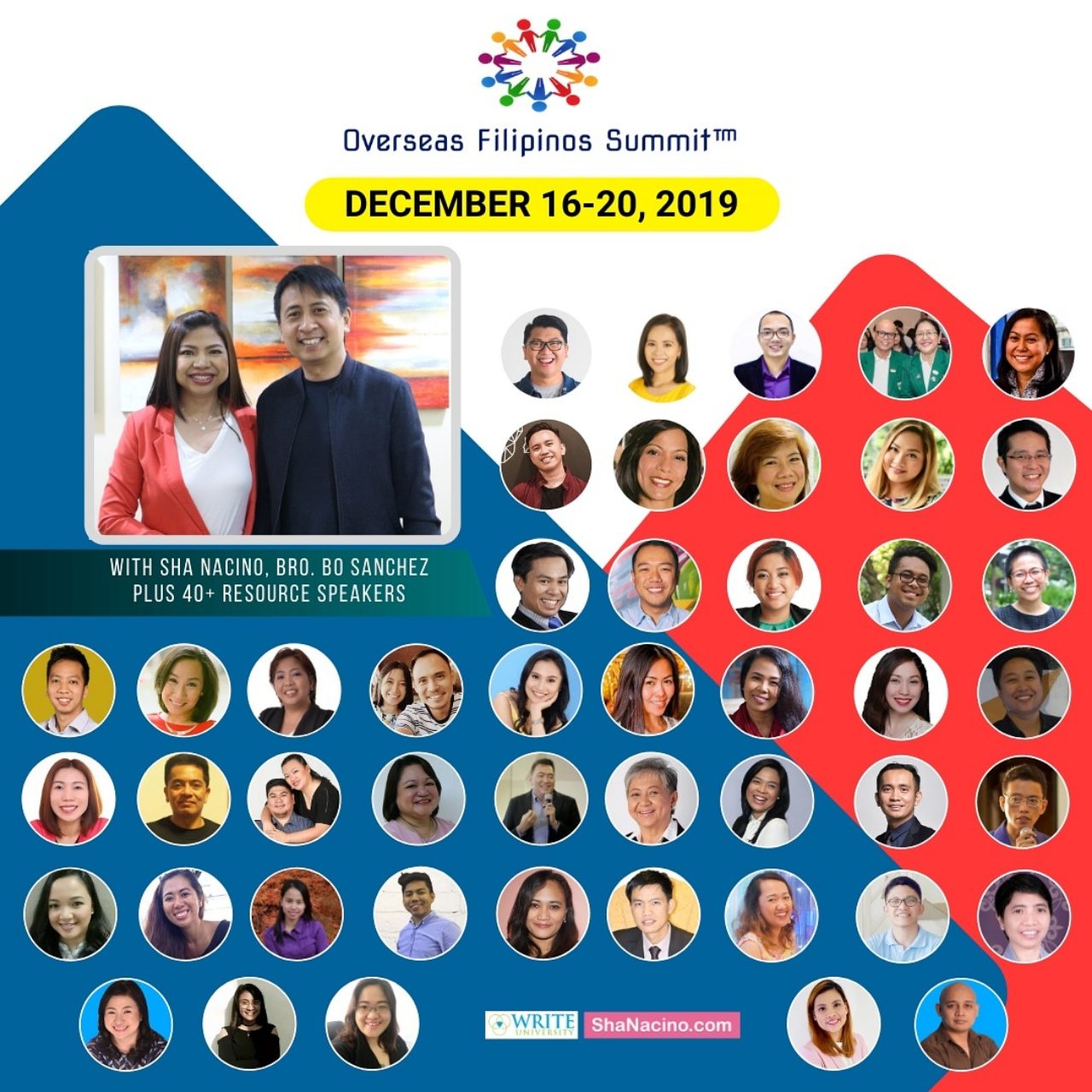 [OFFICIAL PROGRAM]
This Online Summit Is Specifically for OFWs Who Are:
Badly missing their family and tired of being homesick

Struggling in their savings and want to earn more

Worried about their family relationships

Ambitious and want to become successful abroad


Ready to learn how to become FINANCIALLY SECURE and HAPPY?
Are You Ready to Be Financially Stable and Happy?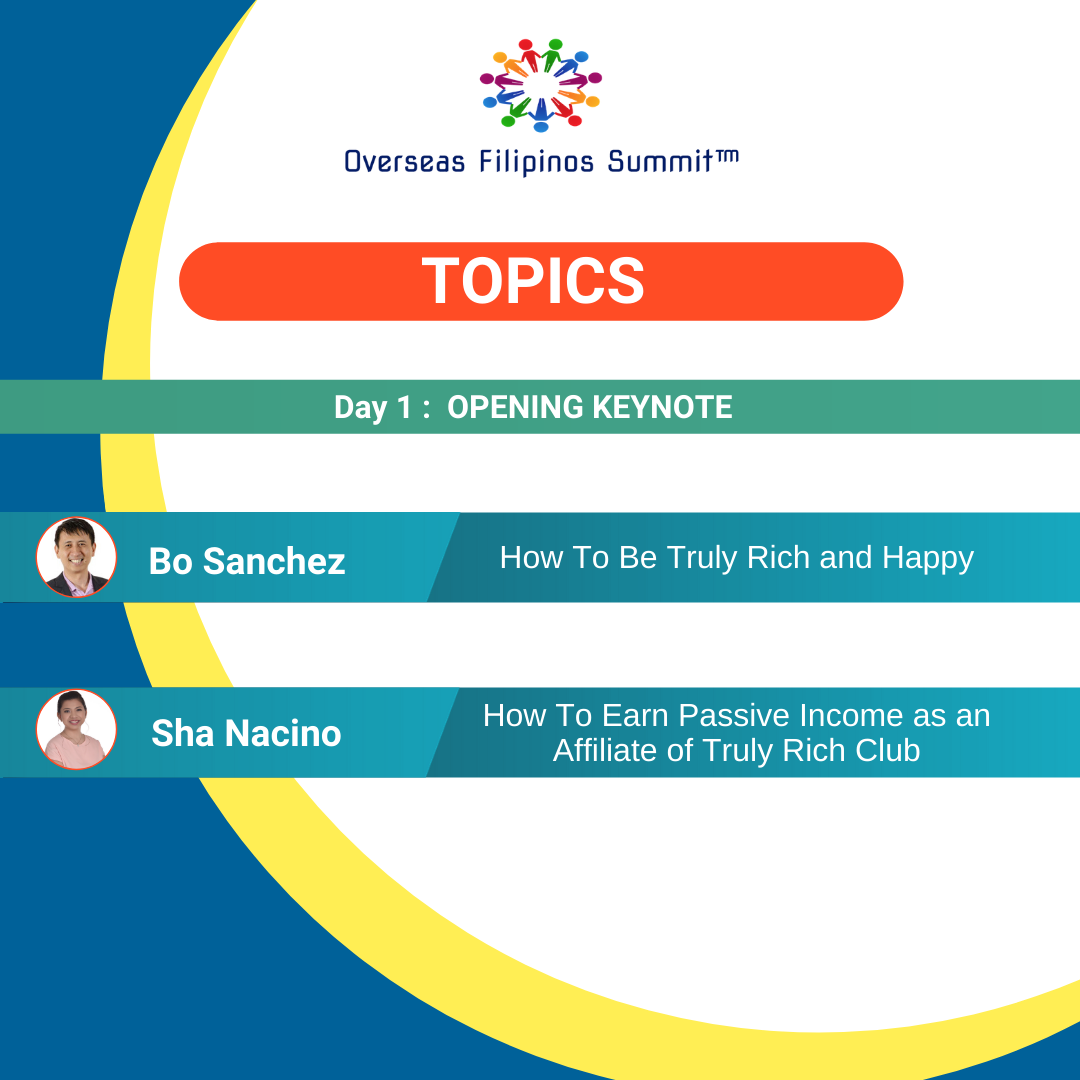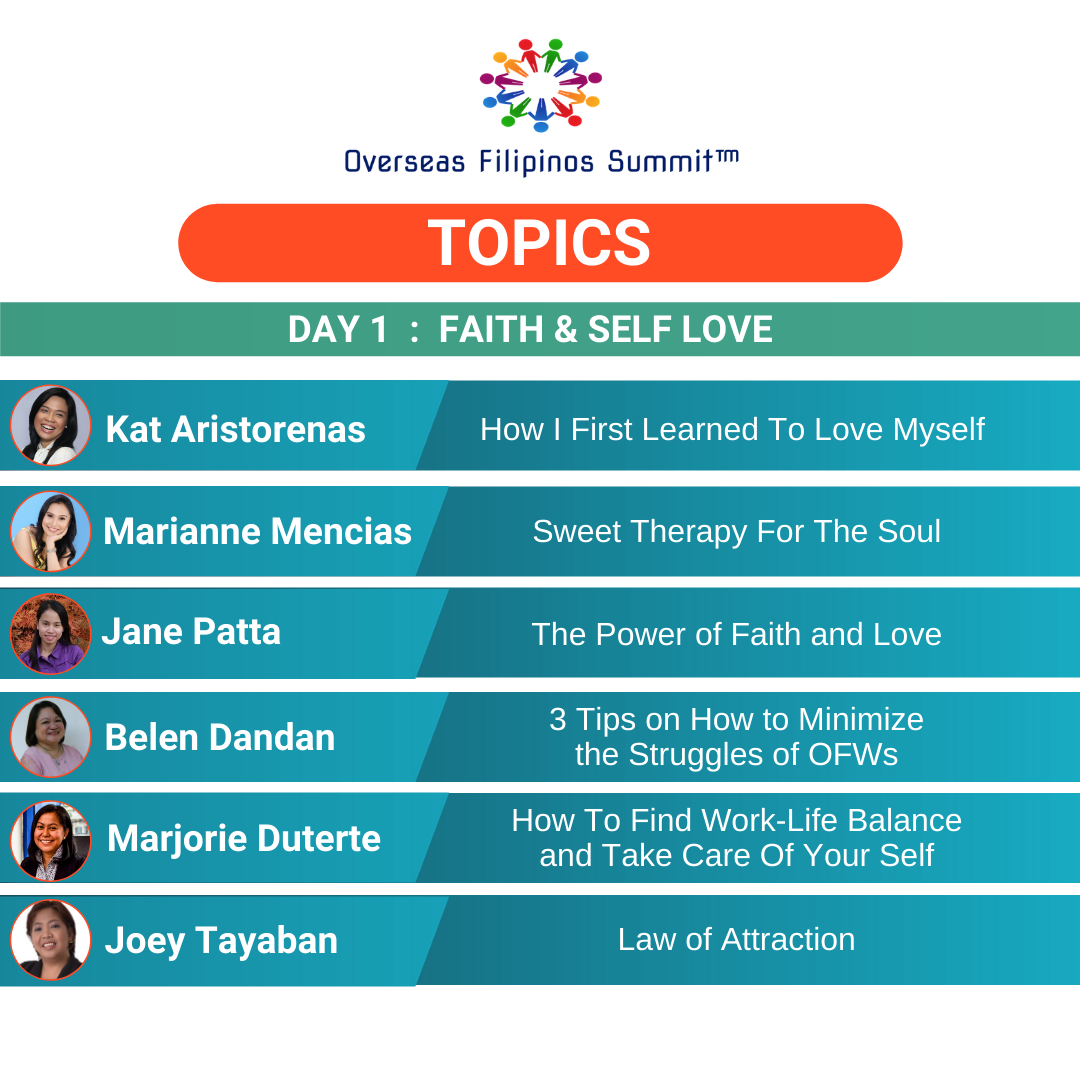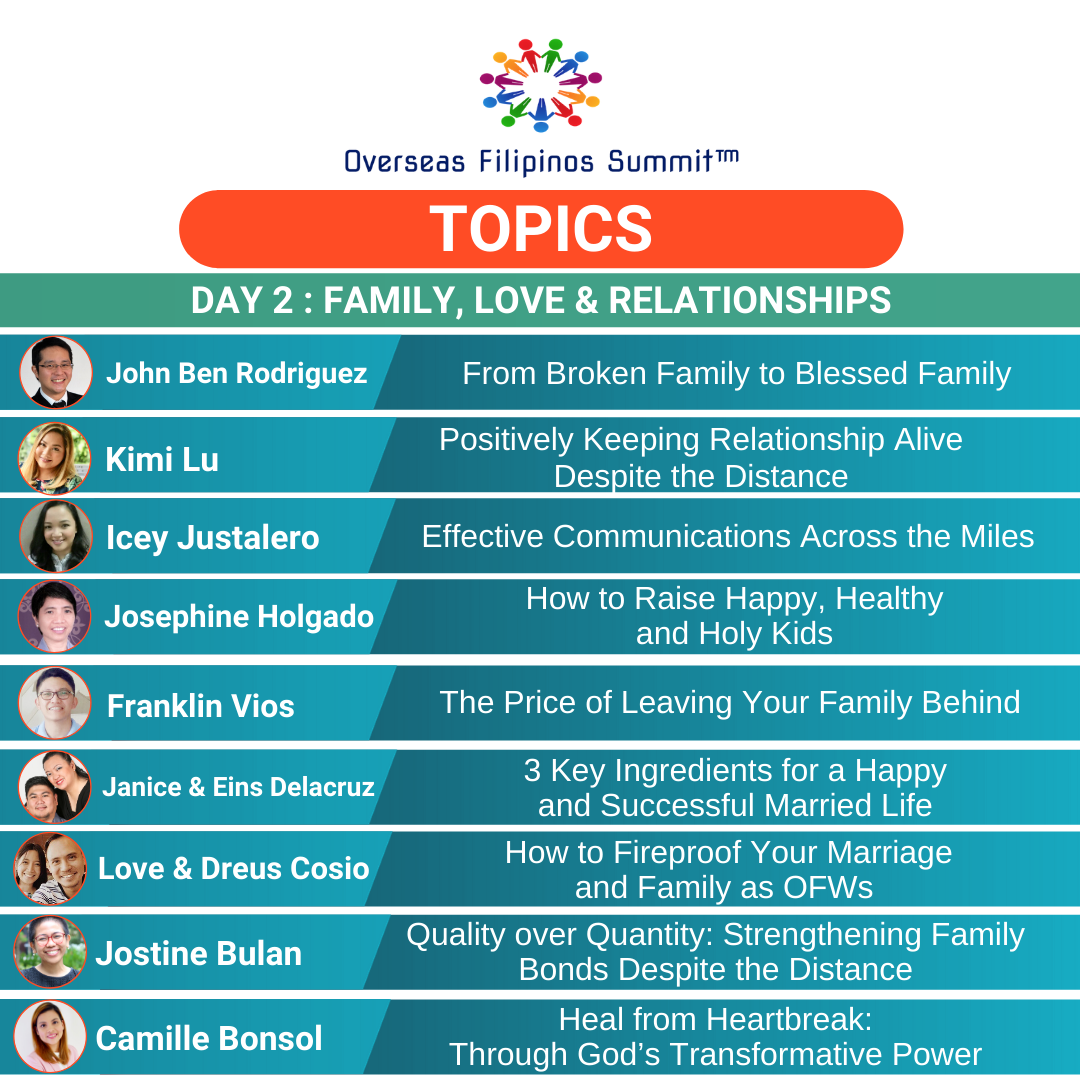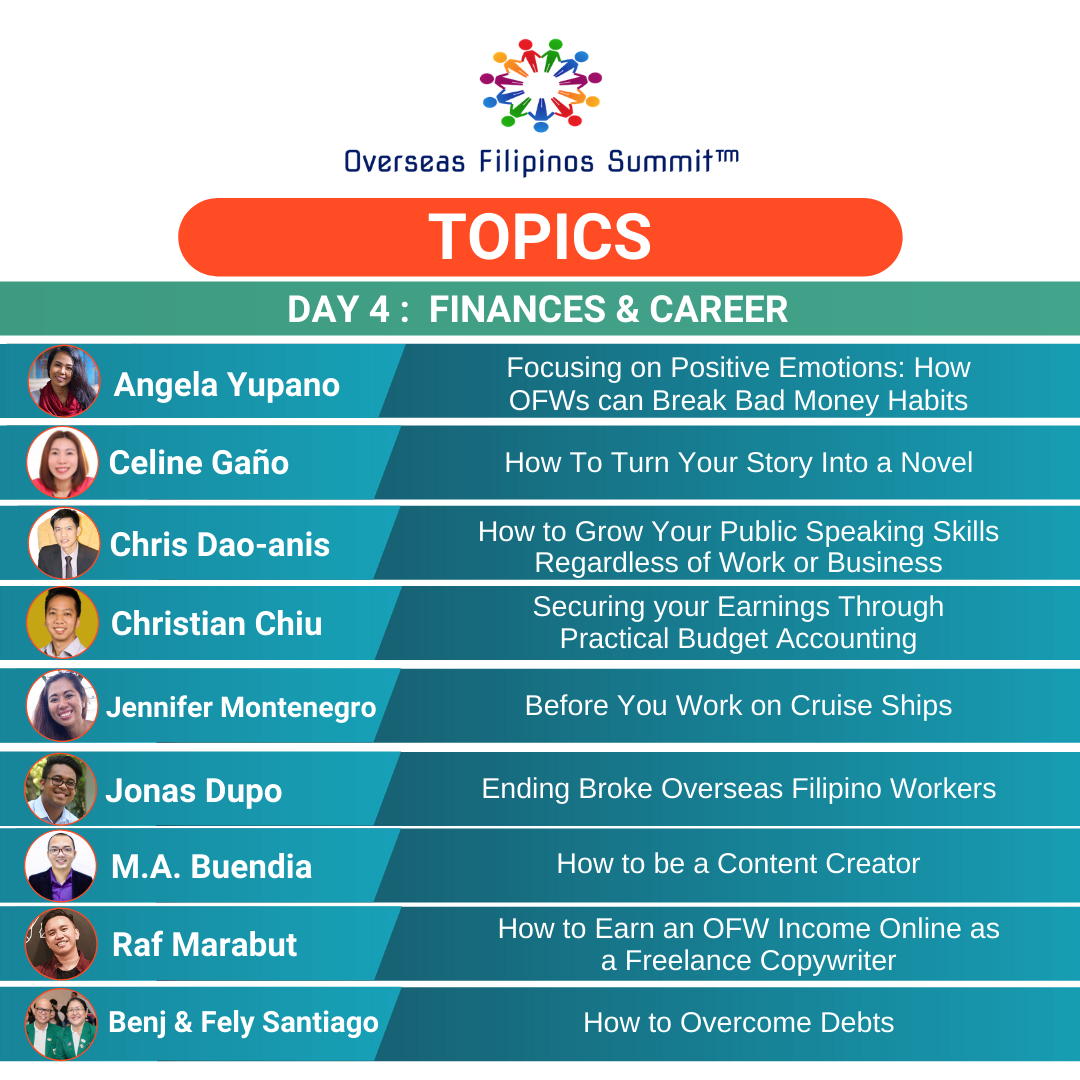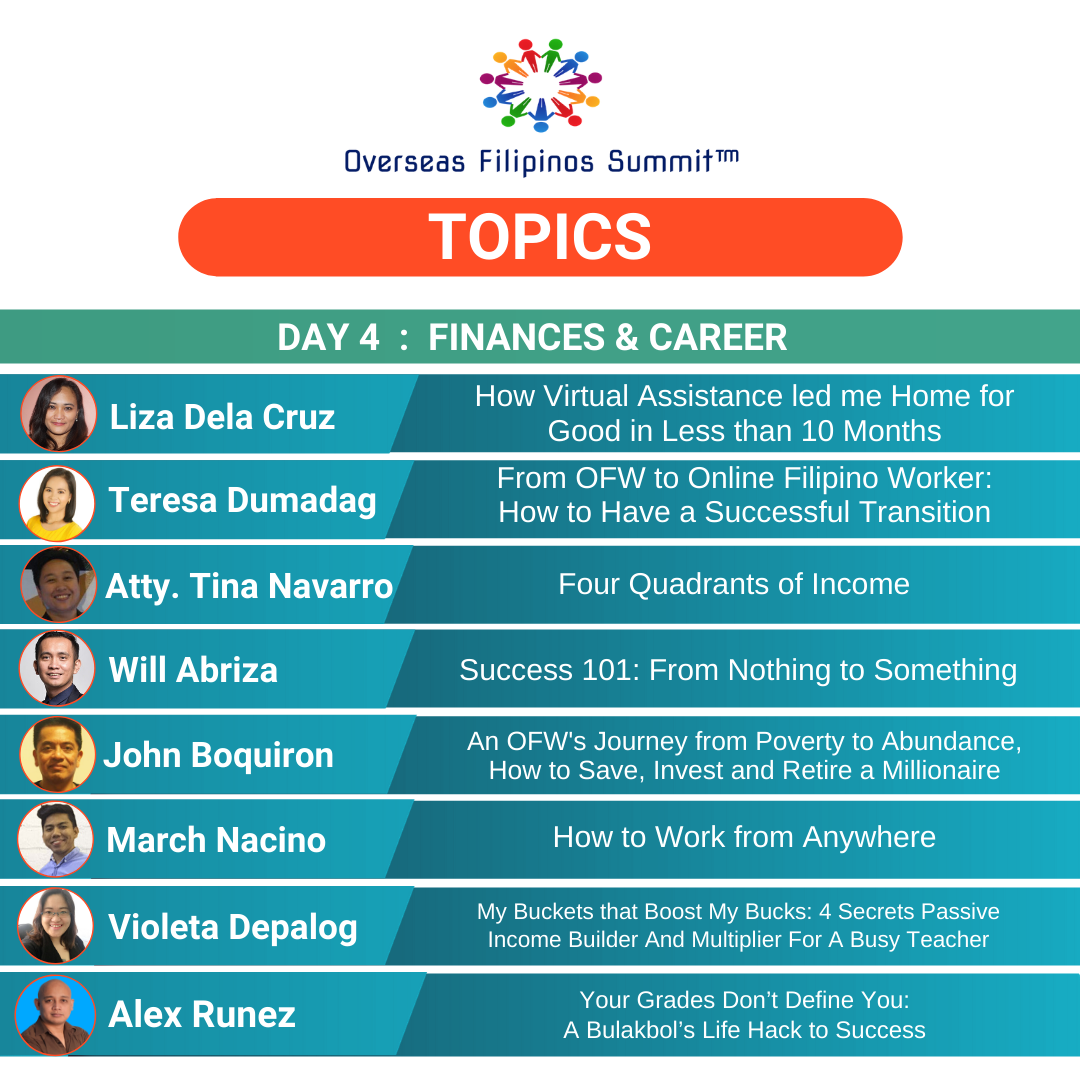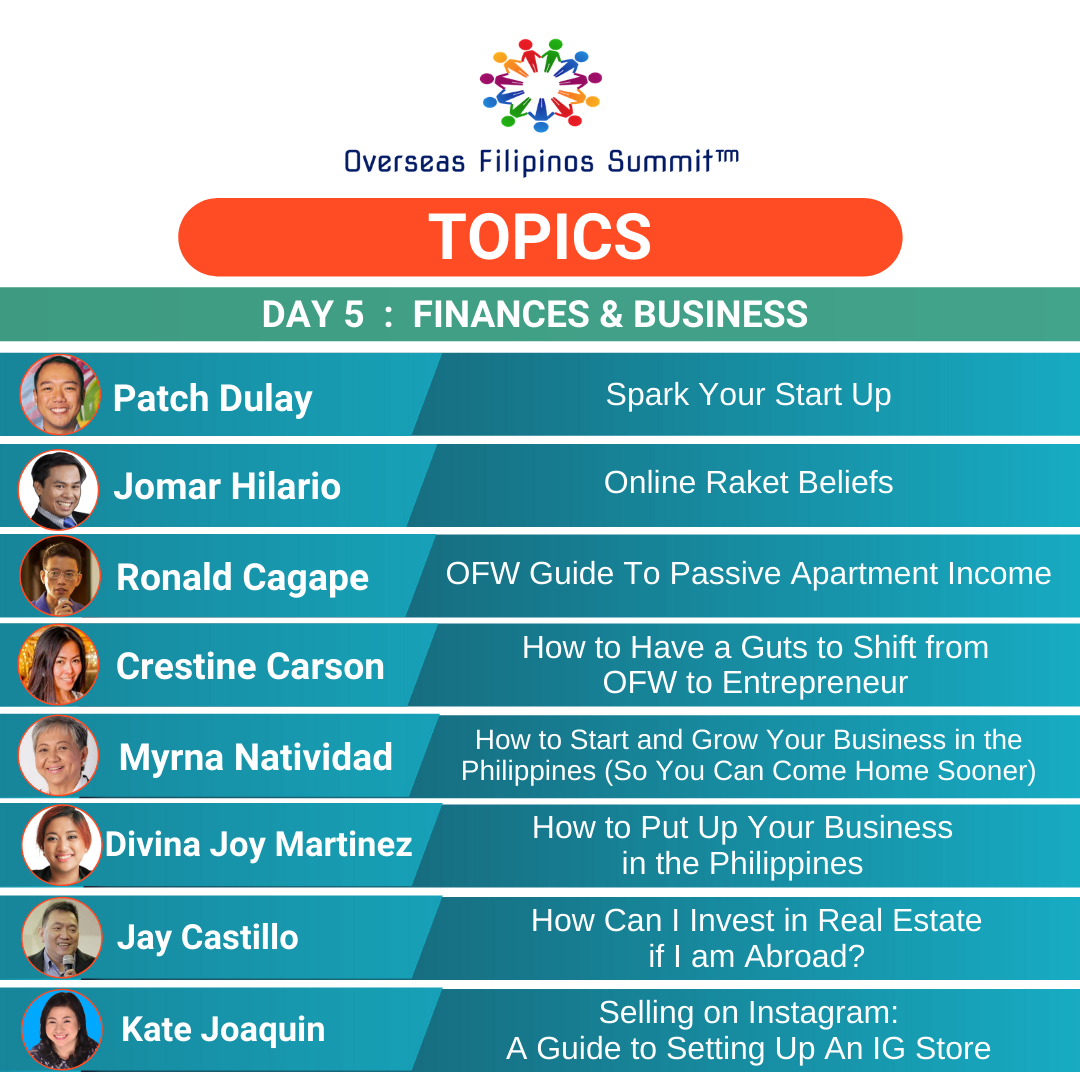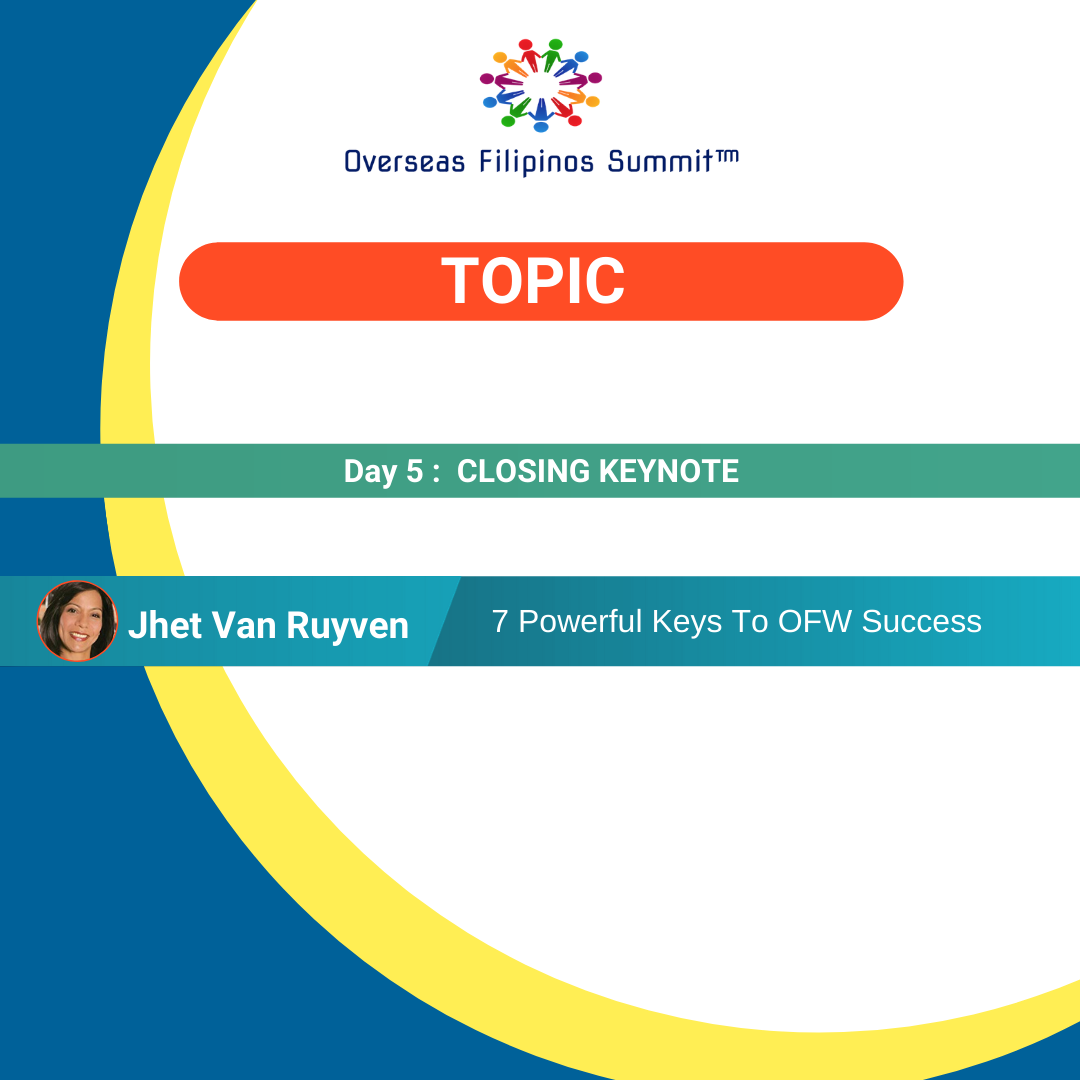 Frequently Asked Questions
Free ba talaga 'to?
YES! You don't have to pay a single cent, gadget lang at internet connection!
Is this open to all?
YES! This Summit is open to ALL OFWs, including families and friends of OFWs! Kahit sino, pwedeng magjoin!
May access pa ba ko sa video kahit tapos na yung summit?
YES, but only for 24 hours once they are published.
Maiinspire ba talaga ako sa speakers?
SYEMPRE. ALL the speakers are successful people in their respective fields, and they are more than willing to help you, our dear OFWs !
How do I join?

Easy! All you have to do is to click the button below to get your FREE PASS!

Ready to learn how to become FINANCIALLY SECURE and HAPPY?

Looking forward to seeing you inside!


To your success and happiness,
Sha Nacino
P.S. Magpa-Pasko na naman. I'm sure nami-miss mo na family mo. Let the Overseas Filipinos Summit inspire you to be financially stable so you can choose whether to continue working abroad away from your family or choose to work near your family.
Ready to learn how to become FINANCIALLY SECURE and HAPPY?

Meet Sha Nacino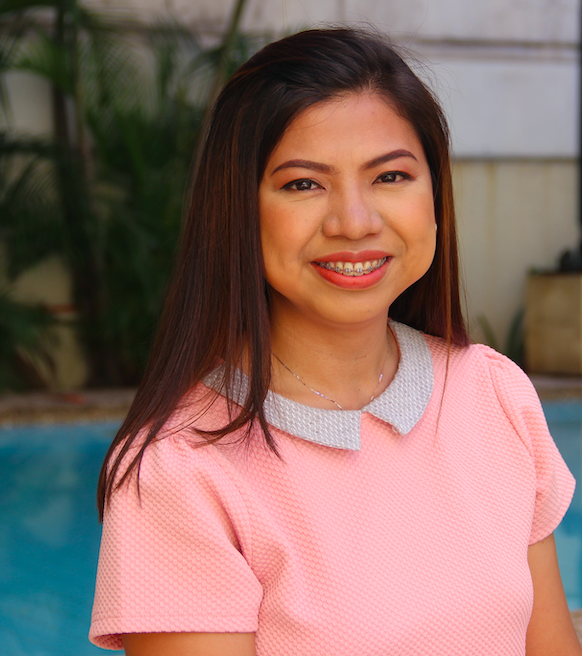 Sha Nacino is a trusted global speaker on gratitude and creativity. She has spoken to thousands of audiences from more than 26 countries globally. Sha is a prolific author who has written and published 12 books so far. She is the founder The 90-Day Book Writing Challenge™ ONLINE COURSE (shanacino.com/write), HR Summit Global™, Global Authors Summit™ and Write University™. Sha is recognized as a Distinguished Toastmaster (DTM), the highest award given by Toastmasters International to its members worldwide. Sha is also a Jack Canfield Certified Trainer on Success Principles.


On a lighter note, Sha loves to travel and have fun! She enjoys painting, dancing, and singing (although she has yet to learn how to carry a tune). She also likes playing with kids and bonding with her family and friends. She's currently happily single who dreams of meeting her future husband soon!

If you wish to invite Sha to speak in your company, event, or global conference, or if you simply want to connect with her, email her at [email protected]
WE THANK OUR SPONSORS